Message
People have the power to change their outlook.
Even in advanced countries nowadays, many people complain that they are suffering and grumble about things not being fair. Rather than examining their own shortcomings, such people tend to direct their frustrations at others they regard as more fortunate, or richer, than themselves — often blaming one scapegoat after another for the position in which they find themselves.
At such times, certain politicians try to increase their popularity by fanning those feelings of anger, while some media outlets, newspapers and magazines foster people's discontent in order to make money for themselves.
I find all such behaviour so depressing, because it seems to suggest human beings have learned nothing from the past.
In fact, I believe almost everyone can change their own circumstances if they try hard to do so — though sadly, individual successes often fail to improve the overall situation after that person dies.
In contrast, feelings of hatred can easily pass on through generations, rapidly crossing borders and spreading in this age of the Internet.
Consequently, with so many crises facing the world today, I wonder whether or not we humans can rise to the challenges we face and find solutions to our problems.
In answer to my own question, I think people need to change their point of view and be less inclined to "enthuse over" quick fixes — and instead become "interested in" broader issues.
When people enthuse over something, they tend to become fixed on it and blind to other things, whereas by taking an interest in something and keeping a broad perspective they can follow a more cool-headed approach.
Of course I understand it's easier for people to feel happy when they are enthusiastic about something rather than having to consider lots of uncertainties and complications — but I believe there are two ways to take a cool view of things.
Firstly, many people adopt a kind of disguise they present to others, but if they see who they really are with their superficial image and enthusiasms removed, they can lose their delusions and recover a presence of mind with which to view reality.
Secondly, if a person is in a position to be judged by others outside their usual circles, they will normally behave in a more balanced manner in order to create a good impression.
Adopting a cool view of things in these ways may sound like a lot to ask, but I am convinced it also relates to how to enjoy theatre, and this theatre festival, too.
And so I hope that every single member of this year's audiences will be "interested in" — and fully enjoy — the World Theatre Festival Shizuoka 2017.
—MIYAGI Satoshi (General Artistic Director of SPAC)
MIYAGI Satoshi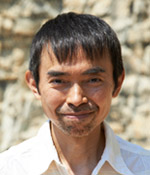 MIYAGI Satoshi
Born in Tokyo, in 1959. MIYAGI is the General Artistic Director of Shizuoka Performing Arts Center (SPAC). After studying aesthetics at Tokyo University under ODASHIMA Yushi, WATANABE Moriaki and HIDAKA Hachiro, he founded the KU NA' UKA theater company in 1990 and soon began staging plays overseas as well as in Japan. As a result, MIYAGI's work — in which he often fuses contemporary textual interpretations with physical techniques and patterns of Asian theatre — has long been acclaimed both at home and far beyond. Since he became SPAC's General Artistic Director in April 2007, MIYAGI has staged his own works — including "Medea," the Hindu epic, "Mahabharata" and "Peer Gynt" — and also invited artists from abroad to present pieces casting a keen eye on the modern world as they see it. In addition, in line with his aim to make theatre "a window to the world," MIYAGI has started a new SPAC-based project aimed at the youth of Shizuoka — while In July 2014 he was invited to the Festival d'Avignon in southern France, where he received excellent reviews for his open-air version of the Hindu epic "Mahabharata" staged in a huge stone quarry named La Carrière de Bourbon. In 2004, he received The 3rd Asahi Performing Arts Award, and in 2005 he received The 2nd Asahi Beer Art Award.
World Theatre Festival Shizuoka 2017
Shizuoka Performing Arts Center (SPAC) will hold its annual World Theatre Festival Shizuoka 2017 from April 28 to May 7, coinciding as usual with the national Golden Week holiday. In line with its slogan of "Fujinokuni (The Mt. Fuji region) and the world are connected through the performing arts," SPAC will introduce a wide range of cutting-edge theatre programs from Japan and abroad at venues in Shizuoka City and the surrounding, wonderfully scenic area. Following on last year's success, SPAC will also host its Open-air Performing Arts Festival under Mt. Fuji 2017 in the city's central Sumpujo Park during the same period.
In addition, this year's festival also features STRANGE SEED, comprising a wide range of fringe arts events being held around the city in cooperation with Shizuoka City's major Town Becomes Theatre Project.
Meanwhile, in the popular nedoco Project for Everyone, guest accommodation facilities run by volunteers will again be open during the festival period. In a nutshell, SPAC aims to present a joyous and inspiring World Theatre Festival Shizuoka festival that remains deeply rooted in its home region of Shizuoka while also connecting to the wider world through theatre.
What is SPAC?
Shizuoka Performing Arts Center
Shizuoka Performing Arts Center (SPAC) was founded in 1995 by Shizuoka Prefecture, Japan. SPAC is the first publicly founded cultural organization in Japan to have residential actors as well as a technical and administrative staff that manages its own theatre venues and facilities for artistic purposes. As a creative base of the performing arts, it generates programs of creation, presentation, education and also programs of exchange / collaboration with artists and institutions of Japan and abroad. SUZUKI Tadashi was the first General Artistic Director of SPAC since 1997 through to March, 2007. In April, 2007, MIYAGI Satoshi was appointed as the General Artistic Director and SPAC started its new phase under his direction. SPAC puts its efforts into various kinds of activities such as creating a variety of theatre pieces, organizing "World Theatre Festival Shizuoka", inviting students to the theatre, developing theatrical human resources, touring abroad, enhancing outreaching program and many more.
Staff
General Artistic Director: MIYAGI Satoshi
Executive Director: USAMI Minoru
Managing Director: NARUSHIMA Yoko
Production Section: OISHI Takako (Section Manager), TANJI Haru (Vice Section Manager), NAKAMURA Yuki, TAKABAYASHI Rie, NAKANO Sakiko, NAKAO Eiji, YONEYAMA Junichi, OGATA Mayuko, UCHIDA Toshiko, NAKAZAWA Midori, HAYASHI Yuka, SAKAMOTO Ayako, TSUKAMOTO Hirotoshi, YUKIOKA Jun, KAJITANI Satoshi, KEIMI Aoi, SATO Ryota
Creative / Technical Section: MURAMATSU Atsushi (Section Manager / Technical Director)
Staging: UCHINO Akiko (Chief), YAMADA Takahiro, HAYASHI Tetsuya, FURUYA Kazumi, KAMIYA Toshiki, YOKOTA Takao, MORIYAMA Marie
Lighting: HIGUCHI Masayuki (Chief), KOBAYAKAWA Hiroya, KAMIYA Reina,
Sound: KATO Hisanao (Chief), YAMASAKI Tomomi, SAWADA Yukino
Scenery: FUKASAWA Eri (Chief), SATO Yosuke, MIWA Kaori, WATANABE Hiroki
Costume: KOMAI Yumiko (Chief), OOKA Mai, SEI Chigusa, TAKAHASHI Kayako, KAWAI Reiko
Literary Section: OSAWA Masachi, OOKA Jun, YOKOYAMA Yoshiji
Managing Bureau: KURITA Tokio, OZAWA Yumiko, NAMIKOSHI Takamasa, KATO Kazuki

International Coordinator: NISHIO Sachiko
Supervisor of Subtitles: TODA Fumiko
Supporting Member: SPAC theatre crew

Public Relations
Art Director: KURODA Takeshi
Figure: WATANABE Mayumi
Photo: UCHIIKE Hideto
Writing: SAKA Kiyokazu
Emendation: KUGA Haruko
Translation: TANAKA Nobuko
Website: Media Mix Shizuoka Co., Ltd.
Video: NISHIMOTO Taro

Approved by Fujinokuni Arts Festival
Organized by Shizuoka Performing Arts Center (SPAC)