Message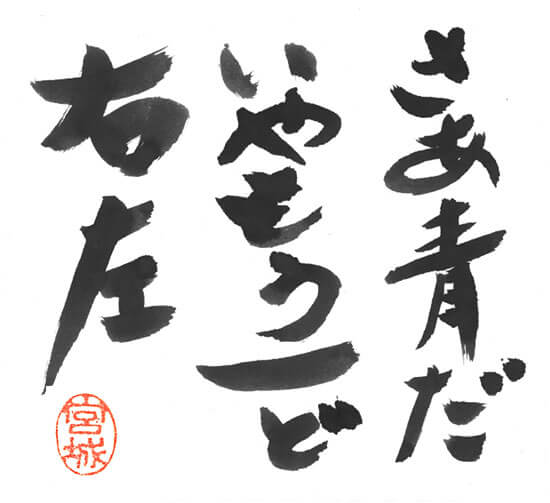 Take a breath and look right and left for yourself.

MIYAGI Satoshi
People might say a signal's changed to green, but you would still be wise to take a breath and look right and left before you follow them.

In today's world, negative feelings seem to overpower all others. Also, if many people express sympathy for an issue or a person, anyone not sharing that feeling is often branded as wrong or uncaring, or worse. Similarly, once a negative feeling — such as "we could never accept that" — becomes the majority's point of view, it is automatically justified and those who disagree are excluded from the community.

Humans' feelings are very complicated. They are also distinct from logical thinking, and logic is generally unable to control those feelings. That's especially the case with negative feelings, as it's almost impossible for a person to control those through logical interpretation. For example, people can't just stop feeling jealous even though it may be silly from a logical viewpoint.
In other words, nobody can judge whether another person's feelings are right or wrong — or silly or not.
The same goes for negative feelings, which everyone has at some time. They also tend to spread easily and may forge powerful bonds between people.

For that reason, displays of negative feelings are generally frowned on by society as they can disturb the peace through demonstrations and suchlike.
Yet in today's world many politicians actively stir up negative feelings and use them as part of their political strategy. In some cases they may even believe it's the right thing to do to overturn vested interests, for example, so they embrace such so-called populist tactics.
It worries me not only that negative feelings are widespread these days — but that society doesn't tolerate people with different opinions. As a result, individuals tend to control themselves so they appear to conform with the majority and avoid any conflict. However, the massive power of all that negative feeling can readily lead to violence.

I believe that's why theatre and/or dance have been useful as ways of defusing those tendencies since at least the times of Ancient Greece. That's because when people witness emotional and sometimes violent actions in a play or dance, they feel a sense of catharsis. In addition, they may realize the stupidity of such behavior and hopefully reject it for themselves.
However, when negative feelings spread, and dangerous situations arise, some people may take that as a green signal for social unrest. Many artists, though, will regard the same conditions as sounding an alarm and they will strive to counter them through their theater or dance work. So, though people may say a signal has changed to green, you really need to take a breath and look right and left yourself.
MIYAGI Satoshi (General Artistic Director of SPAC)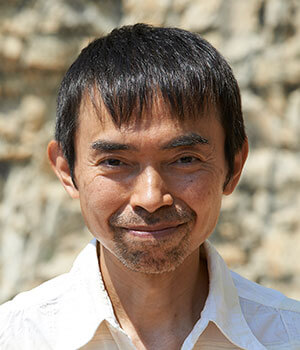 MIYAGI Satoshi
Born in Tokyo in 1959, after studying aesthetics at Tokyo University under ODASHIMA Yushi, WATANABE Moriaki and HIDAKA Hachiro, he founded the KU NA' UKA theater company in 1990 and soon began staging plays overseas as well as in Japan. As a result, MIYAGI's work — in which he often fuses contemporary textual interpretations with physical techniques and patterns of Asian theatre — has long been acclaimed both at home and far beyond. Indeed, in 2004 he received the 3rd Asahi Performing Arts Award, and the next year the 2nd Asahi Beer Art Award.
Since taking up his position with SPAC in April 2007, MIYAGI has staged many of his own works — including "Medea", the Hindu epic "Mahabharata", and "Peer Gynt" — and has invited artists from abroad to present pieces casting a keen eye on the modern world as they see it. In line with his aim to make theatre "a window to the world," he has also started a new SPAC-based project aimed at the youth of Shizuoka.
In 2014, MIYAGI was invited to the Festival d'Avignon, where he received excellent reviews for his open-air version of the Hindu epic "Mahabharata" staged in La Carrière de Bourbon. Following that landmark achievement, the festival extended the honor of inviting MIYAGI to present a Buddhist interpretation he created of the ancient Greek mythological tragedy "Antigone" as its super-prestigious opening program for 2017. On that occasion, which was the first time an Asian play had ever been selected to launch the festival, MIYAGI's exalted "stage" was the open-air Cour d'honneur du Palais des papes (the Honor Court of the Palace of Popes). By the play's end, those towering medieval stone walls were ringing out with long and splendid standing ovations welcoming the work's director and creator along with SPAC's actors and staff — while more than 60 European media all gave great reviews.
In 2018, He received the 68th Minister of Education, Culture, Sports, Science and Technology's Art Encouragement Prize of Drama.
World Theatre Festival Shizuoka 2019 / 20th Anniversary!!
Shizuoka Performing Arts Center (SPAC) will hold its annual World Theatre Festival Shizuoka 2019 from April 27 to May 6, coinciding as usual with the national Golden Week holiday. In line with its slogan of "Fujinokuni (The Mt. Fuji region) and the world are connected through the performing arts," SPAC will introduce a wide range of cutting-edge theatre programs from Japan and abroad at venues in Shizuoka City and the surrounding, wonderfully scenic area. SPAC will also host its Open-air Performing Arts Festival under Mt. Fuji 2019 in the city's central Sumpujo Park during the same period. In addition, this festival also features STRANGE SEED, which is to be held from May 3 to May 6, comprising a wide range of fringe arts events being held around the city in cooperation with Shizuoka City's major project ON STAGE SHIZUOKA. Meanwhile, in the popular nedoco Project for Everyone, guest accommodation facilities run by volunteers will again be open during the festival period. In a nutshell, SPAC aims to present a joyous and inspiring the festival that remains deeply rooted in its home region of Shizuoka while also connecting to the wider world through theatre.
What is SPAC? Shizuoka Performing Arts Center
SPAC was founded in 1995 by the Shizuoka prefectural government and commenced its full-fledged activities in 1997 under the direction of SUZUKI Tadashi, its first General Artistic Director. As a pioneer of publicly funded performing-arts organizations in Japan, SPAC retains its own staff of actors, technical and production staff, who are based at its own venues and facilities. The mission of SPAC is not only to create original pieces, but also to invite progressive artistic companies and creators to Shizuoka and to develop human resources seeking expression through the performing arts. Since April 2007, when he was appointed as the General Artistic Director, MIYAGI Satoshi has led SPAC in a buoyant new phase of development and expansion.
Staff
| | |
| --- | --- |
| General Artistic Director | MIYAGI Satoshi |
| Executive Director | USAMI Minoru |
| Managing Director | NARUSHIMA Yoko |
| | |
| --- | --- |
| Production Section | OISHI Takako (Section Manager), TANJI Haru (Vice Section Manager), NAKAMURA Yuki, TAKABAYASHI Rie, NAKANO Sakiko, NAKAO Eiji, YONEYAMA Junichi, UCHIDA Toshiko, SAKAMOTO Ayako, YUKIOKA Jun, KAJITANI Satoshi, KEIMI Aoi, FUSE Tomonori, NISHIMURA Ai, KUGA Haruko, MIYAKAWA Eri, IRIE Kyohei, KITAHORI Ruka, NAGAI Kenji, OTAGAKI Yu, OGATA Mayuko, SIMIZU Satomi, HAYASHI Yuka |
| | |
| --- | --- |
| Creative / Technical Section | MURAMATSU Atsushi (Section Manager / Technical Director) |
| Staging | UCHINO Akiko (Chief), YAMADA Takahiro, FURUYA Kazumi, MORIYAMA Marie, HARAIKAWA Yukio, YAMAZAKI Kaoru, KIKUCHI Monami, SUGIYAMA Yuri |
| Lighting | HIGUCHI Masayuki (Chief), KOBAYAKAWA Hiroya, HANAWA Yuuki, SHIMADA Chihiro |
| Sound | MIGITA Soichiro (Chief), HAYASHI Tetsuya, SAWADA Yukino, TAKESHIMA Chisato |
| Scenery | FUKASAWA Eri (Chief), SATO Yosuke, WATANABE Hiroki, YOSHIDA Yuna |
| Costume | KOMAI Yumiko (Chief), SEI Chigusa, TAKAHASHI Kayako, KAWAI Reiko, SATO Rise |
| | |
| --- | --- |
| Literary Section | OSAWA Masachi, OOKA Jun, YOKOYAMA Yoshiji |
| | |
| --- | --- |
| Managing Bureau | ODA Masuhide, OZAWA Yumiko, HORI Yuko, OISHI Naoki, SAKATA Sadami, MURATA Miyuki, YAMAOKA Hitomi |
| | |
| --- | --- |
| Supervisor of Subtitles | TODA Fumiko |
| | |
| --- | --- |
| Supporting Member | SPAC theatre crew |
| | |
| --- | --- |
| Public Relations | |
| Art Director | TACHIKAWA Eisuke (NOSIGNER) |
| Photo | KATO Takashi |
| Writing | SAKA Kiyokazu |
| Translation | TANAKA Nobuko |
| Website | Media Mix Shizuoka Co., Ltd. |
| Video | NOSIGNER |
[World Theatre Festival Shizuoka 2019]
Organized by Shizuoka Performing Arts Center (SPAC)
Supported by the Agency for Cultural Affairs Government of Japan in the fiscal 2018
Approved by Fujinokuni Arts Festival
[Open-air Performing Arts Festival under Mt. Fuji 2019]
Organized by the Committee of the Open-air Performing Arts Festival under Mt. Fuji
Cosponsored by Shizuoka City