World Theatre Festival Shizuoka
After successfully holding the 2nd Theatre Olympics in 1999, SPAC has annually held "Spring Arts Festival Shizuoka" (2000 – 2010) which was renewed and continued as "World Theatre Festival Shizuoka" since 2011. Based on its own philosophy of "The theatre is a window to view the world", SPAC has been introducing international and domestic masterpieces of theatre play, dance, puppet play, film and etc., in Shizuoka. This festival combines artists, audiences and people from local community to directly exchange and communicate with each other.
What is SPAC?
Shizuoka Performing Arts Center
Shizuoka Performing Arts Center (SPAC) was founded in 1995 by Shizuoka Prefecture, Japan. SPAC is the first publicly founded cultural organization in Japan to have residential actors as well as a technical and administrative staff that manages its own theatre venues and facilities for artistic purposes. As a creative base of the performing arts, it generates programs of creation, presentation, education and also programs of exchange / collaboration with artists and institutions of Japan and abroad. SUZUKI Tadashi was the first General Artistic Director of SPAC since 1997 through to March, 2007. In April, 2007, MIYAGI Satoshi was appointed as the General Artistic Director and SPAC started its new phase under his direction. SPAC puts its efforts into various kinds of activities such as creating a variety of theatre pieces, organizing "World Theatre Festival Shizuoka", inviting students to the theatre, developing theatrical human resources, touring abroad, enhancing outreaching program and many more.
MIYAGI Satoshi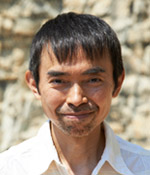 MIYAGI Satoshi
Born in Tokyo in 1959. Director. General Artistic Director of SPAC – Shizuoka Performing Arts Center. Studied aesthetics under ODASHIMA Yushi, WATANABE Moriaki, and HIDAKA Hachiro at Tokyo University, and founded the new theatre company KU NA'UKA in 1990. Through him being active both in Japan and internationally, MIYAGI's directing, which fuses contemporary textual interpretations with physical techniques and patterns of Asian theatre, has received high acclaim both domestically and abroad. MIYAGI was appointed as the General Artistic Director of SPAC in April 2007. Along with presentations of his own works, he invites pieces that sharply cut away at modern society from regions all over the world. In addition, he has started a new project aimed at the youth of Shizuoka, putting efforts into presenting theatre as "a window to view the world." In July 2014, he was invited to the Festival d'Avignon and received excellent reviews for his open-air staging of "Mahabharata – Nalacharitam" at a huge disused quarry known as "la carrière de Bourbon." Best known for such pieces as "Medea", "Peer Gynt", etc. MIYAGI received the 3rd Asahi Performing Arts Award in 2004 and the 2nd Asahi Beer Art Award in 2005.
Message
If something looks too simple — be skeptical
What's happening in the world?
What's happening in Japan, and elsewhere in Asia?
It would certainly be very interesting to know.
I suppose there isn't so much difference in humans' abilities between now and past times, or in our species' capacity for learning. However, people seem to think they should be able to learn more than others in past ages — and then they get anxious if they don't think they can.
As a result, many people just settle for simple things they can easily understand — but I regret to say that this doesn't take us forward in a positive way.
In fact I believe we should control our tendency to look for easy answers. Instead, I think it's vital to try to improve both our physical and our mental abilities little by little every day.
To foster such improvements, theatre directors around the world have generally found two approaches to be effective: One is by studying classic plays; the other is by reflecting their own world.
Of course theatre directors don't explain the world — but they help us to feel it.


――MIYAGI Satoshi (General Artistic Director of SPAC)