Message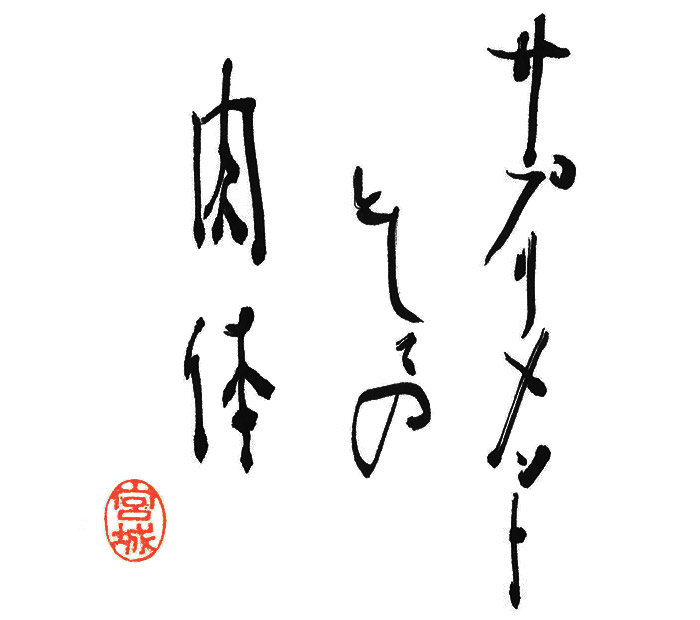 Corporeal communication is key — people, in person, are what really count

MIYAGI Satoshi
Which information sources do you trust?

These days I imagine fewer people than before believe what's put out by the conventional mass media.
Is that because their output isn't as clear as it used to be?

Or in this country in particular is it because, since the Great East Japan Earthquake in 2011, people have become much more suspicious about the reliability of those news providers?

Well, yes and no.

I believe the real reason is that though information provided by the conventional media still comes with the stamp of authority, people have become more skeptical about that authority itself and the powers behind it.

Hence it's an unpleasant whiff of suspicion about the conventional media's role that is turning people off nowadays — not any particular content to which they may feel opposed.

But where is that bad smell coming from?

I think it emanates from those individuals and vested interests that are profiting massively from their positions of power and authority in society.

Essentially, of course, the credibility of any media, its standing and the authority it is accorded ought not to be related to support, or otherwise, from such quarters. It must depend on the ways in which information is gathered, rigorous fact-checking, and editorial independence — all of which are affected by the media's distance from the above-mentioned "malodorous" influences.

Instead, the conventional mass media now appears to be mainly concerned with those in positions of power and authority, and the circumstances of others who are influential in society.

In Japan and many other countries, in fact, it's as if there is now a dichotomy between a small group of winners relentlessly adding to their gains, and a growing majority of losers who are getting poorer.

So, if the conventional media is perceived to be focused on the winners and those in authority in society, others are left looking elsewhere for views and information relevant to them — which may lead them to sources provided anonymously or by dubious people. After all, if someone wants to be an opinion leader today, the chances are they'd prefer not to be exposed to the full glare, and power, of authority. And that's a very ironical — and rather dangerous — point to be at in society.

To prevent this, we need to develop ways to not divide people into "winners" and "losers" — and also let everyone have access to enrichment for the spirit, if not actual material riches.

In practice, of course, it's difficult not to divide individuals into friends or foes on SNS, though it's far easier to avoid that when dealing with people in person.

So today perhaps more than ever we all need real people in our lives, not online — people like those found on the stages of our theatres, in the auditoriums, open-air venues, foyers and places we gather to share the joy of the performing arts and our place in that most human, inclusive world.
MIYAGI Satoshi (General Artistic Director of SPAC)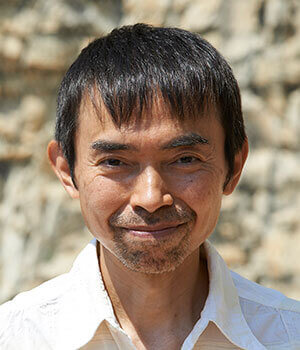 MIYAGI Satoshi
Born in Tokyo in 1959, after studying aesthetics at Tokyo University under ODASHIMA Yushi, WATANABE Moriaki and HIDAKA Hachiro, he founded the KU NA' UKA theater company in 1990 and soon began staging plays overseas as well as in Japan. As a result, MIYAGI's work — in which he often fuses contemporary textual interpretations with physical techniques and patterns of Asian theatre — has long been acclaimed both at home and far beyond. Indeed, in 2004 he received the 3rd Asahi Performing Arts Award, and the next year the 2nd Asahi Beer Art Award.
Since taking up his position with SPAC in April 2007, MIYAGI has staged many of his own works — including "Medea", the Hindu epic "Mahabharata", and "Peer Gynt" — and has invited artists from abroad to present pieces casting a keen eye on the modern world as they see it. In line with his aim to make theatre "a window to the world," he has also started a new SPAC-based project aimed at the youth of Shizuoka.
In 2014, MIYAGI was invited to the Festival d'Avignon, where he received excellent reviews for his open-air version of the Hindu epic "Mahabharata" staged in La Carrière de Bourbon. Following that landmark achievement, the festival extended the honor of inviting MIYAGI to present a Buddhist interpretation he created of the ancient Greek mythological tragedy "Antigone" as its super-prestigious opening program for 2017. On that occasion, which was the first time an Asian play had ever been selected to launch the festival, MIYAGI's exalted "stage" was the open-air Cour d'honneur du Palais des papes (the Honor Court of the Palace of Popes). By the play's end, those towering medieval stone walls were ringing out with long and splendid standing ovations welcoming the work's director and creator along with SPAC's actors and staff — while more than 60 European media all gave great reviews.
In 2018, he received the 68th Minister of Education, Culture, Sports, Science and Technology's Art Encouragement Prize of Drama. Also he recieved "Chevalier de l'Ordre des Arts et des Lettres" from the Ministry of Culture of France in 2018.
World Theatre Festival Shizuoka
It's time to enjoy unique and wonderful arts experiences once again at open-air venues across the Shizuoka City area during Golden Week.

Because of Covid-19, the World Theatre Festival Shizuoka, which SPAC (Shizuoka Performing Arts Center) had held annually for 20 years, was restricted last year to an online-only format titled the World Theatre Festival on the Cloud 2020.

In line with its slogan of "Fujinokuni (the Mt. Fuji region) and the world are connected through the performing arts," SPAC is renowned for presenting a wide and diverse range of cutting-edge programs from Japan and abroad at venues in Shizuoka City.

So, when the regular weeklong festival had to be canceled for the first time ever, SPAC instead streamed 49 different programs in its World Theatre Festival on the Cloud 2020.

Among the lineup were talks between SPAC's General Artistic Director, MIYAGI Satoshi, and several foreign dramatists who had been scheduled to present works but were unable to come to Japan due to the pandemic.

In addition, a piece titled "Theatre absence of Mary Poppins with her Upside-down Umbrella" aimed to highlight the loss of live productions as SPAC live-streamed its deserted open-air UDO theatre in the hills for each of the three, two-hour periods when KARA Juro's play "Mary Poppins with her Upside-down Umbrella" ought to have been presented there.

Now, though, things have changed and SPAC is all set and delighted to be welcoming audiences and artists back again during Golden Week in 2021 to its annual World Theatre Festival Shizuoka after what has seemed to be such a long wait.
What is SPAC? Shizuoka Performing Arts Center
SPAC was founded in 1995 by the Shizuoka prefectural government and commenced its full-fledged activities in 1997 under the direction of SUZUKI Tadashi, its first General Artistic Director. As a pioneer of publicly funded performing-arts organizations in Japan, SPAC retains its own staff of actors, technical and production staff, who are based at its own venues and facilities. The mission of SPAC is not only to create original pieces, but also to invite progressive artistic companies and creators to Shizuoka and to develop human resources seeking expression through the performing arts. Since April 2007, when he was appointed as the General Artistic Director, MIYAGI Satoshi has led SPAC in a buoyant new phase of development and expansion.
Staff
| | |
| --- | --- |
| General Artistic Director | MIYAGI Satoshi |
| Executive Director | SAKURAI Masaaki |
| Adviser | USAMI Minoru |
| Managing Director | NARUSHIMA Yoko |
| | |
| --- | --- |
| Production Section | OISHI Takako (Section Manager), TANJI Haru (Vice Section Manager), NAKAMURA Yuki, TAKABAYASHI Rie, NAKANO Sakiko, YONEYAMA Junichi, UCHIDA Toshiko, SAKAMOTO Ayako, YUKIOKA Jun, KEIMI Aoi, FUSE Tomonori, NISHIMURA Ai, KUGA Haruko, MIYAKAWA Eri, IRIE Kyohei, KITAHORI Ruka, KAWAGUCHI Mio,SUZUKI Tatumi, KOMIE Kaoru, SAKANAKA Toshiki, TOTSUKA Mina, KUREBAYASI Masako |
| | |
| --- | --- |
| Creative / Technical Section | MURAMATSU Atsushi (Section Manager / Technical Director) |
| Staging | HARAIKAWA Yukio(Chief), YAMADA Takahiro, FURUYA Kazumi, YAMAZAKI Kaoru, SUGIYAMA Yuri,OGAWA Tetsurou, MORIBE Rio, TSUCHIYA Katsunori, MIWA Ayaka, YOU Kakin(Trainee) |
| Lighting | HIGUCHI Masayuki (Chief), KOBAYAKAWA Hiroya, HANAWA Yuuki, MORITA Honoka,MIZUNO Hikaru |
| Sound | SAWADA Yukino(Chief), HAYASHI Tetsuya, TAKESHIMA Chisato, OTSUKI Minori / HARADA Shinobu |
| Scenery | FUKASAWA Eri (Chief), SATO Yosuke, WATANABE Hiroki, YOSHIDA Yuna |
| Costume | KOMAI Yumiko (Chief), SEI Chigusa, SATO Rise, YAMAMOTO Kana, MAKINO Saho |
| | |
| --- | --- |
| Literary Section | OSAWA Masachi, OOKA Jun, YOKOYAMA Yoshiji |
| | |
| --- | --- |
| Managing Bureau | ODA Masuhide, OISHI Naoki, ITO Yusuke, KINPARA Isao, SAKATA Sadami, MURATA Miyuki, YAMAOKA Hitomi |
| | |
| --- | --- |
| Supporting Member | SPAC theatre crew |
| | |
| --- | --- |
| Public Relations | |
| Art Director | TACHIKAWA Eisuke (NOSIGNER) |
| Photo | KATO Takashi |
| Translation | TANAKA Nobuko |
| Website | Media Mix Shizuoka Co., Ltd. |
| Video | Freeriding |
Contact
SPAC – Shizuoka Performing Arts Center
2-3-1 Higashishizuoka, Suruga-ku Shizuoka City, Shizuoka 422-8019
Tel: +81-54-203-5730 Fax: +81-54-203-5732
E-mail:mail@spac.or.jp
[World Theatre Festival Shizuoka 2021]
Organized by Shizuoka Performing Arts Center (SPAC)
Supported by the Agency for Cultural Affairs Government of Japan
Approved by Fujinokuni Arts Festival
[Mt.Fuji World Theatre Festival Shizuoka 2021]
Organized by the Committee of the Open-air Performing Arts Festival under Mt. Fuji
Cosponsored by Shizuoka Cultural Program Promotion Committee, Shizuoka City